The video from the staged reading on 8 December 2022 is now online on our YouTube channel!
It was one of the last events in the gallery of the Czech Centre, which is part of the Czech Embassy in Berlin, because the entire building complex is about to undergo extensive renovation. The embassy building, also called the "spaceship" by Berliners, is one of the most important buildings of Brutalism.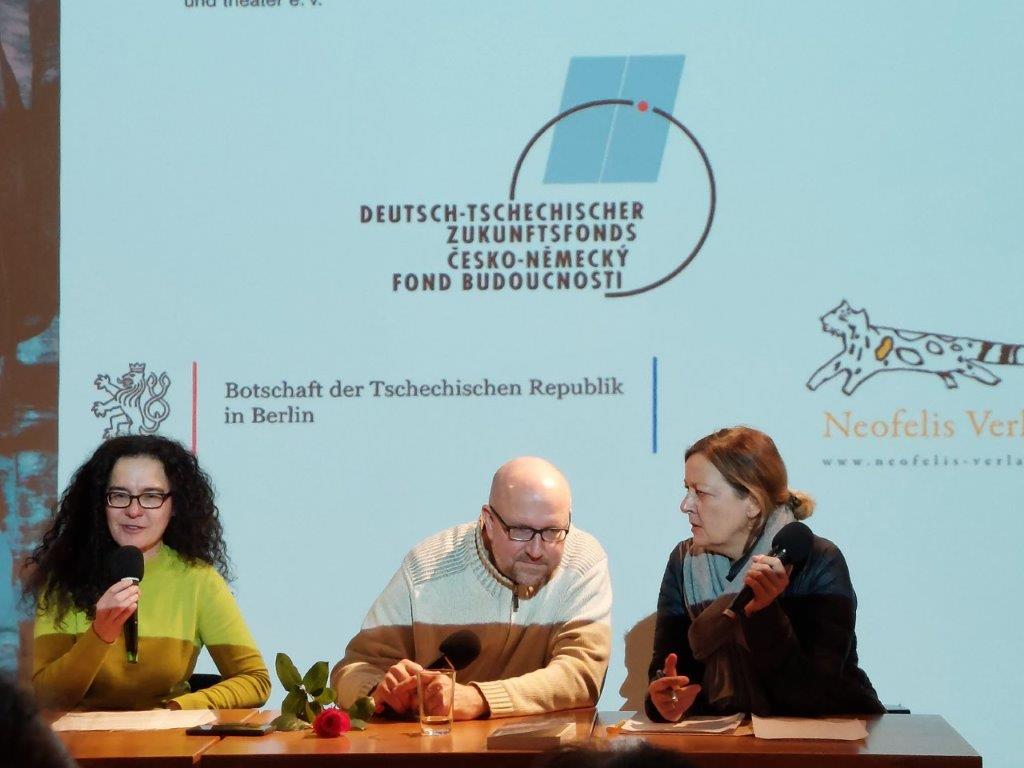 Roman Sikora: Das Prager Jesulein (The Infant Jesus of Prague)
Translated by Barbora Schnelle
Staged reading directed by: Eberhard Köhler
Performed by: Thea Rasche, Naemi Schmidt-Lauber, Henning Bochert und Moritz Kienemann
Audience discussion with: Roman Sikora (playwright), Barbora Schnelle (chair) and Christina Frankenberg (interpreter). With book presentation.
Video: Emil Laaß
Just before Christmas, we invited you to a special staged reading in the Tschechische Zentrum Berlin as part of Ein Stück: Tschechien, the Christmas Edition. In Prager Jesulein, Czech dramatist Roman Sikora satirises the Christmas story and relocates it to the Czech Republic in the present day. Joseph and Maria live in a Moravian village. First Joseph loses his job, then he and Maria also lose their apartment. Hoping for a better life, they go to Prague… A staged reading with plenty of Christmas songs that describe a very a different reality to the one in the play.
We will also present the newly published book, Roman Sikora: Frühstück mit Leviathan. Theaterstücke (Berlin: Neofelis, 2021, ed. by Barbora Schnelle). You can find more information about the book on our blog and on the publisher's website, with full press material.
---
An event by Drama Panorama: Forum für Übersetzung und Theater e. V. in cooperation with the Tschechisches Zentrum Berlin and the Embassy of the Czech Republic Berlin, funded by the German-Czech Future Fund. Supported by Neofelis Verlag Berlin.