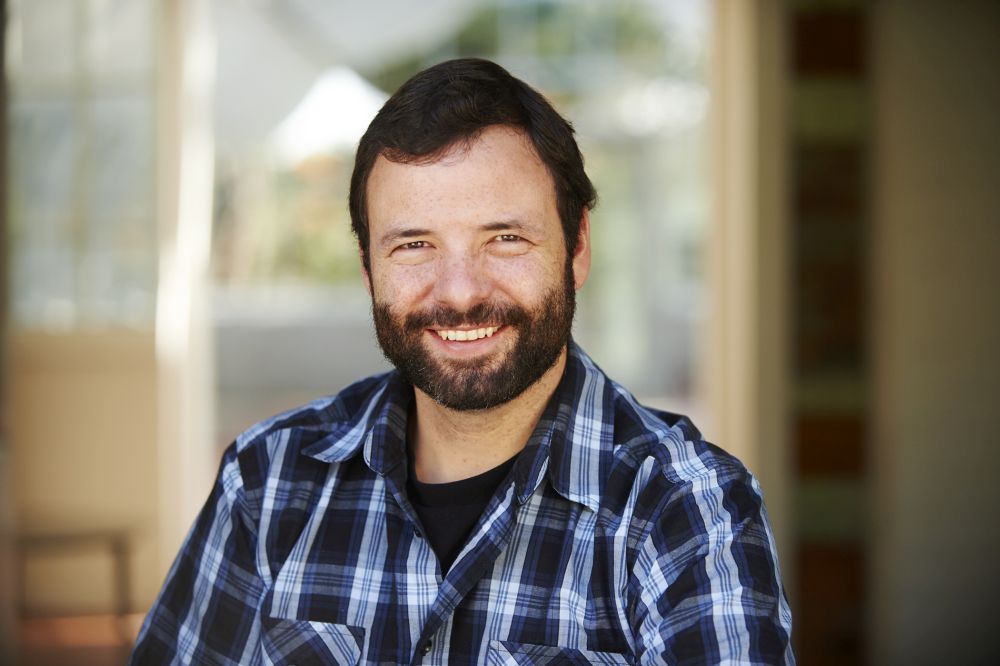 presented by Henning Bochert
The entertaining plays by Canadian playwright Nicolas Billon provide surprising plots and smart dialogues. Apart from their entertaining value, his texts often feature another characteristic: he employs other idioms than his working language English. These languages then introduce a certain exotic element.
Die unterhaltsamen Theaterstücke des kanadischen Autors Nicolas Billon setzen auf überraschende Plots und smarte Dialoge. Darüber hinaus haben seine Stücke des Öfteren ein weiteres Merkmal: Er verwendet andere Sprachen als seine Arbeitssprache Englisch. Diesen Sprachen haftet dann jeweils eine gewisse Exotik an.
For Butcher, a post-soviet chamber thriller, two linguists invented the eastern European language Lavinian – with an affinity to the Slavonic language family. Without spoiling the plot too much: At the end of the play, each character proves to be someone else than we – and the other characters as well – initially assumed them to be.
For practical understanding, Billon provides English translations for the text in Lavinian in the textbook. Here is the first longer passage between Joseph, held in custody at the provincial police station, and Hamilton:
Hamilton sits and takes out his phone.
Josef watches Hamilton.
JOSEF
(whispers) Marko?
Hamilton doesn't react.
JOSEF
Marko.
Hamilton looks up from his phone.
HAMILTON
I'm sorry…?
JOSEF
Sta lavis vodje? [What are you doing here?]
HAMILTON
I'm sorry. I don't speak Lavinian.
JOSEF
Da, ritsas. [Yes you do.]
(beat)
Marko!
HAMILTON
My name is Hamilton Barnes, sir.
JOSEF
Mene ne preznames, nelda? [You don't recognize me, do you?]
HAMILTON
I'm sorry… Do you know where you are?
(gestures "here")
A police station. Toronto?
JOSEF
Mie sne vu Torontu!? [We're in Toronto!?]
HAMILTON
Yes. Toronto. You didn't know that?
JOSEF
Kato su me nosli? Bio som abresan… I nad som vu Torontu… [How did they find me? I was so careful… And now I'm in Toronto…]
HAMILTON
(mimes) How did you get my business card?
JOSEF
(take his head in his hands) Isuse, ne nagu dumliti… Vu rasiju moter, ka su mi doli…? [Christ, I can't think straight… What the hell did they give me…?]
HAMILTON
Are you all right?
Josef looks back at Hamilton.
JOSEF
Marko…?
HAMILTON
No no.
(puts hands on his chest)
Hamilton. I'm not who you think I am.
JOSEF
Moe glasci me ne jervoraju… [My eyes do not deceive me…]
(stands up)
Marko–
Josef puts weight on his foot and a sharp pain forces him to sit down again.
The question of intelligibility doesn't come up as the fact that this language is not comprehensible is a crucial plot point for the other characters as well. Just this much: the other language and its strangeness and unintelligibility at first separates the character of Joseph from the others who do not have the slightest clue as to who might be sitting in front of them. But as the characters' identities shift in the course of the action, so do these lines of separation and coherence.
For the play, the invented language stands for a shared, vaguely post-soviet past sparing Billon from loading his characters with a too complex, specific past. So it is explicitly not about using any historical identity. The playwright would have had to deal with too many questions irrelevant to his interest in the story and the characters.
In his decidedly contemporary version of Aeschylus' Agamemnon, Billon uses another language than English too. When Cassandra enters the stage at Agamemnon's side, she speaks another language, just as she would have with the language that was spoken in Troy. (By the way: What language was predominantly spoken in ancient Troy remains unknown.) To illustrate this, Billon chose a language that sounds familiar but is only understood by very few. When Cassandra enters as Agamemnon's bounty woman, she speaks Esperanto – until her rapid death. Another nice trick of the play, by the way, is the active presence of Agamemnon's daughter Iphigenia, whom he sacrificed for the sake of victory, as a ghost. Only after Agamemnon has been murdered (with the same preference for graphic detail pertinent to the play's language) does his ghost recognize that of his older daughter.
Clytemnestra pokes her head out of the bedroom.
CLYTEMNESTRA
Cassandra?
Cassandra looks up at Clytemnestra.
CHRYSOTHEMIS
Hey! Is Dad home?
CLYTEMNESTRA
You're back early. Stay in your room.
(to Cassandra)
Cassandra? Come here, sweetie.
CHRYSOTHEMIS
What is that, anyway?
CLYTEMNESTRA
Your father brought back a Trojan orphan.
CHRYSOTHEMIS
Wait, we're gonna keep it?
CLYTEMNESTRA
No, it's gotta take a bath first.
CHRYSOTHEMIS
You realize we can have it clean our house? Run errands? Like, all the time?
CLYTEMNESTRA
Cassandra, come here please.
CASSANDRA
…
CHRYSOTHEMIS
Can we just think about this for–
CLYTEMNESTRA
No. (to Cassandra) Cassandra! Come on.
CHRYSOTHEMIS
Is it deaf?
CLYTEMNESTRA
Just stubborn, apparently. Get it in here, will you?
Clytemnestra shuts the bedroom door.
CASSANDRA
("Why have the Gods forsaken me? Why have you brought me to this house, where the walls drip with the blood of family?")
Kial la Dioj min forlasis? Kial vi venigis min al ĉi tiu domo, kie la muroj gutas per la sango de familio?
CHRYSOTHEMIS
I hope it's not gonna be this fucking whiny all the time.
OLD MAN
Leave her alone.
CHRYSOTHEMIS
(to Cassandra) Do. You. Speak. English? En-glish.
CASSANDRA
("Cursed, cursed am I! I will die with him; it is my fate, I see that now.")
Malbenita, malbenita mi estas! Mi mortos kun li, estas mia sorto, tion mi nun vidas.
OLD MAN
I think she's praying.
CHRYSOTHEMIS
Oh yeah? (to Cassandra) How's that working out for you?
(grabs Cassandra)
C'mon, let's get this over with…
Cassandra bites Chrysothemis.
CHRYSOTHEMIS
OW!
(pushes Cassandra away)
You fucking bitch!
(looks at her hand, back at Cassandra)
You bit me!
(looks at Old Man)
She fucking bit me!
Cassandra goes to hide behind the Old Man.
Chrysothemis steps towards them.
CHRYSOTHEMIS
You're in a world of trouble now, cunt–
As Chrysothemis steps forward, Iphigenia walks into her path.
Chrysothemis stops, unable to move past Iphigenia.
CHRYSOTHEMIS
I'm… I'm gonna…
(resigned)
Fuck it. Not my problem.
(to Old Man)
Take her to my mother.
Chrysothemis exits to her room.
The Old Man turns to Cassandra. They observe each other.
Cassandra touches his face.
CASSANDRA
("You have a kind face. You remind me of my grandfather.")
Vi havas afablan vizagôn. Vi memorigas min pri mia avo.
OLD MAN
I'm sorry… I wish I spoke Trojan…
CASSANDRA
("We might have been friends.")
Ni eble esti amikoj.
The Old Man goes and opens the front door.
OLD MAN
Go. Get away. Run.
Cassandra looks at the open door.
She shakes her head.
OLD MAN
Go. Please.
CASSANDRA
("Don't you understand that I'm going to die?")
Ĉu vi ne komprenas, ke mi mortos?
OLD MAN
This house is rotted to its very foundations.
CASSANDRA
("Friend, there is no escape. I will not win by leaving. Everywhere I go is an open grave.")
Amiko, ne ekzistas eskapo. Mi ne venkos per foriro. Ĉie, kien mi iras, estas malfermita tombo.
OLD MAN
(desperate) Please. Go!
Iphigenia closes the front door.
Cassandra walks to the bedroom door and opens it.
She turns around just before entering it.
CASSANDRA
("You will bear witness for me.")
Vi atestos por mi.
The Old Man looks at Cassandra. She shuts the bedroom door.
The Old Man looks at Iphigenia, overwhelmed by having to witness the death of another innocent.
AGAMEMNON
(off-stage) Aaaaaargh!
CASSANDRA
(off-stage) Aaaaah!
Five Questions for Nicholas Billon
1. Do you have a personal history with multilingualism?
I grew up bilingual. I spoke French at home and English outside the house. I have also lived, for the most part, in cosmopolitan cities.
2. Why do you use more than one language in your play(s)?
Multilingualism has always been a part of my environment, and I want that reality reflected in my work.
3. What purpose/function do these languages fulfil in your texts?
I work in English Canada, but my name is spelled and sounds francophone. It's interesting to me when — not often, but occasionally — someone makes assumptions about me because of my name.
So one theme I've explored in a number of my plays is the relation of language and identity. What does the language you speak say about who you are? Or what others think of you?
The best examples of this are my plays Butcher and Agamemnon. The former includes an invented language, Lavinian, understood only by the characters in the play. The latter includes Trojan, for which I used Esperanto.
In Butcher, one character hides the fact he speaks a language because he knows others will jump to conclusions about him as a result. Accents are also used as identifying markers to pinpoint which part of the country someone is from.
In Agamemnon, the titular character returns home and his wife, Clytemnestra, is shocked to discover that he has learned to speak Trojan — the language of the enemy. It's one of the key moments in the play.
4. How do you deal with intelligibility of the lines? 5. What are the stylistic advantages of multilingual texts?
I strive to provide enough context so that the exact meaning of the spoken words are unnecessary and that the audience will understand the gist of what is being said.
In some cases, I don't provide enough context — and that's because I don't want the audience to understand what's being said. This isn't something to be abused, because an audience has only so much patience (and rightfully so). But it can also be very, very effective when used properly.
In Agamemnon, for example, Cassandra — brought back to Greece as Agamemnon's slave — realizes that Clytemnestra is about to murder her. She turns to a character and pleads with him to save himself and run away from the house as fast as he can. Because she says this in Trojan, neither the character nor the audience understands her words. This allows the audience to directly receive the "brute emotion" of Cassandra's plea, without having it filtered through meaning.
In Butcher, I do something similar. A character confesses, in Lavinian, to a horrible crime they committed. At first, another character translates what the other says, just enough to set up the context of the crime. But when the confession turns to the details of the event, the translator is unable to continue and what we receive, as the audience, is the violence (the "brute emotion") of their act — without the unnecessary gruesome details.
(The interview was conducted in writing in May 2021.)
About Nicolas Billon
Canadian writer Nicolas Billon works for theatre, film and TV. He graduated from the Canadian Film Centre's Prime Time TV programme. He adapted his first play, The Elephant Song, into a feature film starring Xavier Dolan, Bruce Greenwood, and Catherine Keener. His work has garnered over a dozen awards, including a Governor-General's Award for Drama, a Canadian Screen Award, and a Writers Guild of Canada Screenwriting Award.
---
About the series More languages, more theatre
In the context of their research on multilinguaism in theatre, Henning Bochert, Lydia Nagel and Barbora Schnelle explore and present playwrights, who employ several lanugages in their work, in their series More languages, more theatre. These portraits are published in an open series on this blog. The brochure with the same title is published in limited edition at first and is available upon request to info@drama-panorama.com while stocks last for a donation to our organisation.