Guest Performance by the Lachende Bestiens Theatre (Prague)
on the 30th anniversary of the Velvet Revolution
on October 1st, 2019 at 19:30 in the Czech Centre Berlin
The Embassy of the Czech Republic in Berlin, the Tschechisches Zentrum Berlin, the Prague Lachende Bestien Theatre and Drama Panorama: Forum für Übersetzung und Theater e. V. present:
Ferdinand!
"Ferdinand Vaněk today – now that's a subject for today's theatre."
Guest performance by the Lachende Bestien (Laughing Beasts) Theatre on the 30th anniversary of the Velvet Revolution
In Czech with German surtitles
A critical exploration of Václav Havel's political ideas and the world of his plays form the basis of this production the young, progressive ensemble, the Lachende Bestien from Prague. What would Ferdinand Vaněk, Havel's alter ego from his plays, do today? From today's perspective, how can we "live in truth"?
In the form of a performative monologue, the production deals with themes such as the role of intellectuals in public life, the legacy of postcommunism and the splintering of society, and questions the possibilities in contemporary political theatre. Featuring a live band on stage.
Opening words: S.E. Tomáš Jan Podivínský, Ambassador of the Czech Republic in Berlin
Written and directed by: Michal Hába
Stage: Adriana Černá
Dramaturgy: Simona Petrů
Music: Jindřich Čížek
Performed by: Michal Hába and the band KONZUM KOKAIN KAPITALISMUS – Jindřich Čížek, Vlado Mikláš and Mišo Škoda
Followed by an audience discussion with the director Michal Hába and the Czech Studies scholar Anna Förster.
Discussion chaired by: Barbora Schnelle and Christina Frankenberg.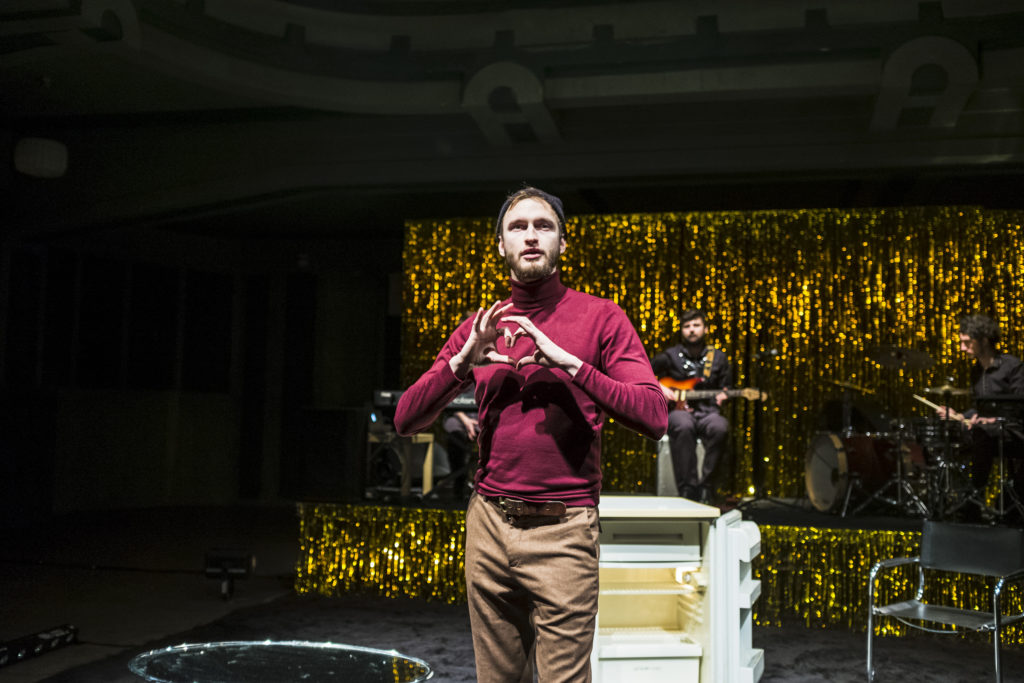 Tuesday, 01.10.2019, 19:30
Tschechisches Zentrum Berlin, Wilhelmstraße 44, 10117 Berlin (Eingang Mohrenstraße)
Free entry
Doors open at 19:00. We request punctual arrival, the space has a limited capacity.
Further information at drama-panorama.com, tzberlin.de, lachendebestien.eu
Production: Hana Svobodová ( Lachende Bestien) and Barbora Schnelle (Drama Panorama)
Presented by: The Embassy of the Czech Republic in Berlin | Tschechisches Zentrum Berlin | Lachende Bestien z.s. | Drama Panorama e.V.
We thank the following institutions for supporting the event:
German-Czech Future Foundation| Culture Ministry of the Czech Republic | Foreign Ministry of the Czech Republic | The Office of the Mayor of Berlin – Senate Chancellory