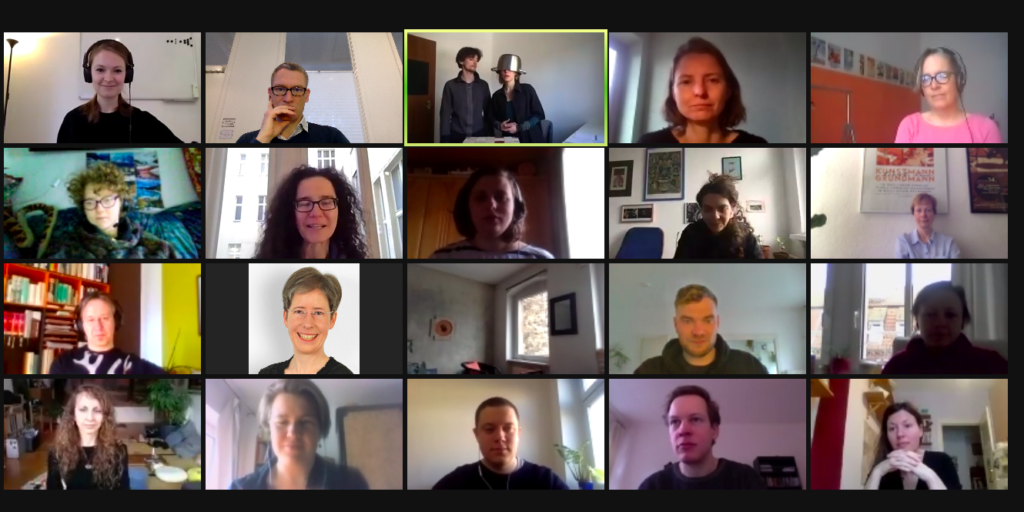 Schudomastraße is located in Berlin-Neukölln, in Bohemian Rixdorf, where the first Protestant refugees from Bohemia came in 1737 to escape persecution in their home country. The Bohemian Brethren community still exists there today. The street is named after the 19th-century local politician Johann Schudoma. We use it, inspired by a story by the Berlin-based Czech writer Dora Kaprálová, as a variant of šu doma, i.e. su doma, in today's Czech language jsem doma, in German ich bin zu Hause, and in English I am at home. Perhaps Johann Schudoma had Czech roots and his name had this very etymology. However, our main question is: in which language is one at home? And if there are several, what does that do to us and how does that manifest itself in the process of writing and translating? The Bohemian community mixed Czech and German for a very long time and gradually adapted their language to German, as the many documents in the Rixdorf archive testify. But what about in today's Berlin? What linguistic combinations arise in a multilingual context? At what point is one at home in a language, or allowed to be?
Based on this question, we wanted our workshop to be a contribution to current culture-specific discourses around the topics of identity and multilingualism. For Drama Panorama, it was the first public event in 2021, the second year of Corona, and it soon became clear that it would have to be held completely online. At first, we were unsure if the 10am to 5pm schedule would scare away our audience. We were all the more grateful and pleased when we were very well attended with 20 selected participants, all of whom stayed until the end. The audience – again an advantage of digital meetings – were a mixture of interested members of the public and even renowned experts from Vienna, Prague, Berlin, Dresden, Leipzig, Düsseldorf and Mondsee in Austria.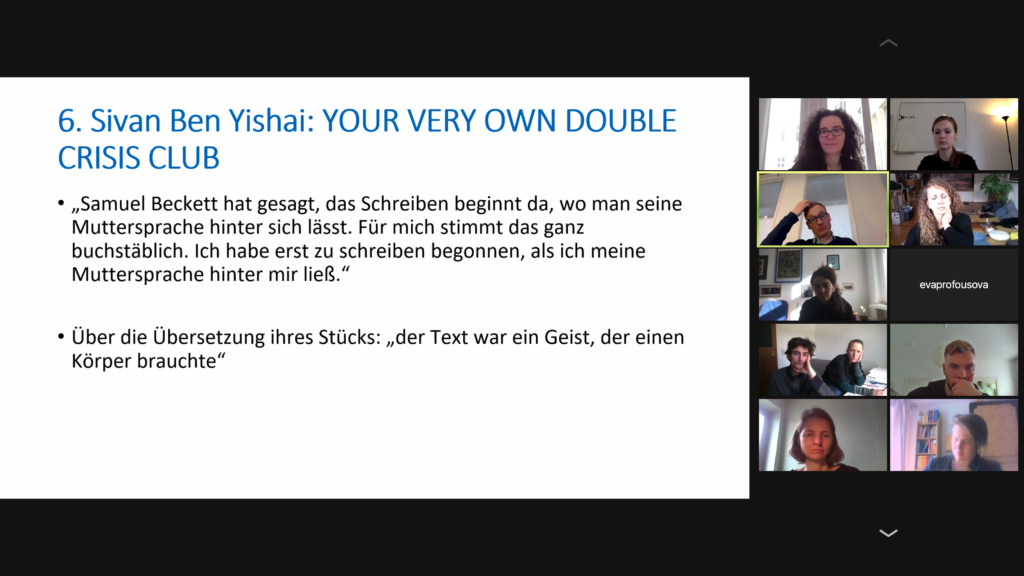 Barbora Schnelle and Henning Bochert gave an account of their experiences with multilingual plays and productions and, in their discussion of their own work, explored the advantages of their special way of working together, in which Barbora translates from Czech into German and Henning edits the texts with a special eye for the theatricality and thus "attitude" of the character's speech. Both of them gave practical examples from their work, which turned out to show that it's actually an advantage that Henning does not speak Czech. In their opinion, it even creates more freedom in the transcription and a more precise eye for detail in the dramatic dynamics of the target text. To a large extent, that's always a dramaturgical eye, since the texts are translated for a specific function: they will be shown to a German-speaking audience as part of the festival Ein Stück: Tschechien. Both of them can therefore test out their work immediately during rehearsals.
The idea of opening with a lecture by Anita Jorí on Vilém Flusser proved fruitful and far-sighted. Especially at the intersection of theatre and translation, Anita's overview of Flusser's thoughts on languages, translation and gestures were illuminating and stimulating. Flusser has arguably always reflected empirically on his own work, writing, for example, about his own translation of his own work into other languages, which is certainly different from translating other writer's texts. Also, his work is always extremely focused on the word itself and its transfer into different languages. His anti-academic style has always been the subject of criticism, but this also makes him quite accessible. https://www.flusser-archive.org/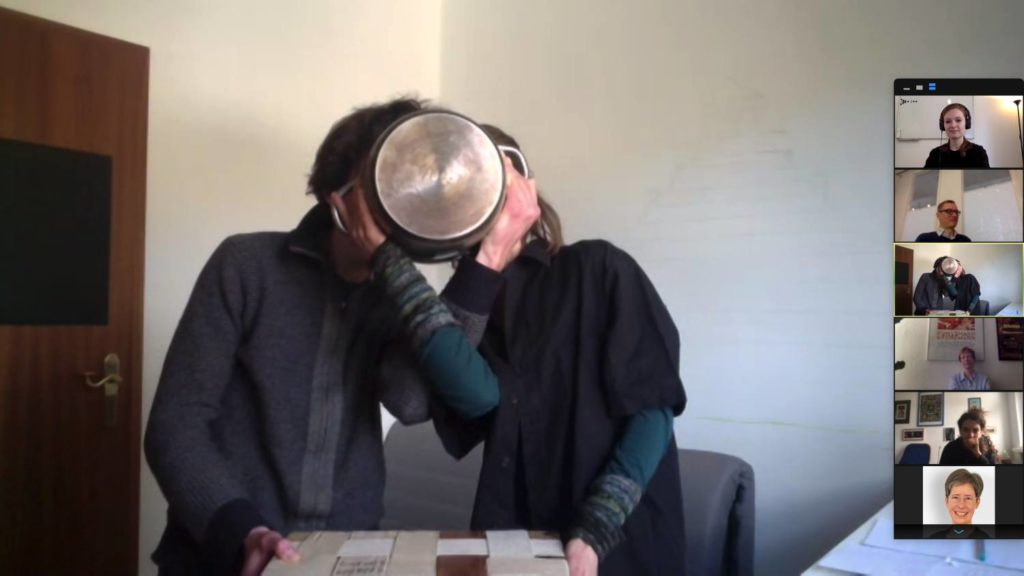 Ultimately, however, it was the interventions and creative ideas from Florent Golfier and Laura Brechmann between the more intellectually demanding lectures and conversations that made the long days in front of our screens interesting and inspiring. Their physical and creative approaches relaxed and loosened up the participants and reminded us what we were actually talking about: theatres are bodies experiencing something together in one place, not just language and word octopuses scurrying around the internet feeding off their own theories.