Funding for Translation in Theatre
Workshop and panel dicussion
1st November 2021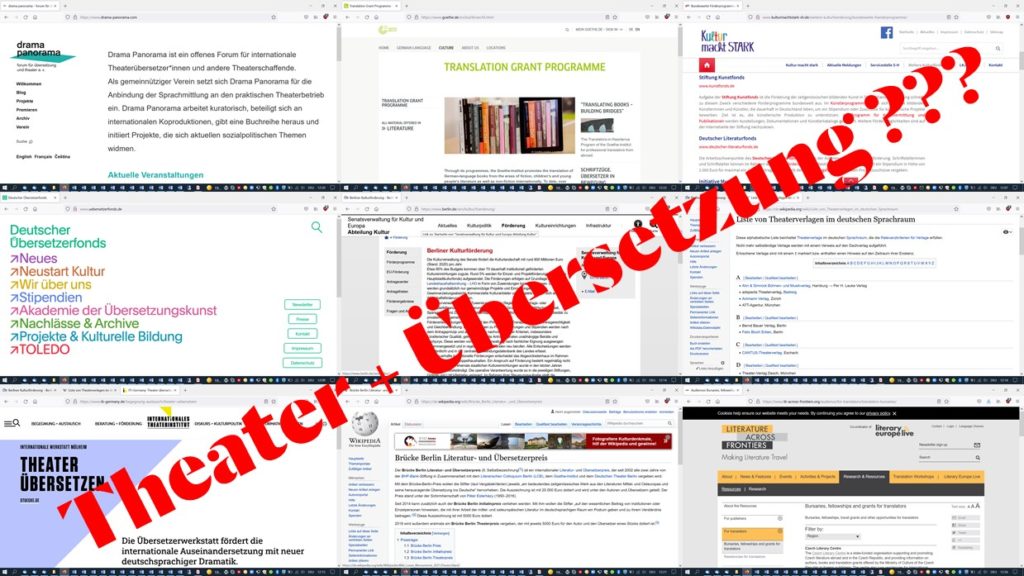 English Theatre Berlin | International Performing Arts Centre
"International, cultural dialogue, looking beyond your own backyard" – many theatres use catchphrases like this to market their seasons. But in order to present foreign-language plays on German stages, these first need to be translated.
Audiences in the theatres of large cities are becoming increasingly international. Many theatres now plan in foreign-language surtitling (often English) from the beginning to make theatre accessible for as many people as possible. For these surtitles too, texts need to be translated competently from the German.
Unfortunately, neither the theatres nor the publishers have enough money in their budgets to pay for this adequately. Theatres are being forced to resort to tougher and tougher savings strategies, and things will no doubt get harder due to Covid-19. Theatre publishers are struggling to survive and international plays are often not even taken into the publisher's catalogue, since the higher costs associated with them due to uncertain royalty returns most likely cannot be covered.
As a result, the work of both playwrights and theatre translators is increasingly dependent on financial funding from private and state foundations. The topic of this event is how this situation is reflected in the current funding options available.
Funding for translation in theatre – What are the tricks? Ideas and discussion workshop
1st November 2021, 14:00 – 18:00
14:00
Arrival and welcome
14:30 – 16:00
Ideas and discussion workshop
Chaired by: Antje Oegel and Barbora Schnelle
Presentation: Lydia Nagel and N. N.
16:00 – 16:30
Coffee break
16:30 – 18:00
Presentation: N. N.
17:30 – 18:00
Evaluation and closing discussion
We invite anyone interested in exploring the funding options available both in Germany and internationally in relation to drama and translation in a workshop with presentations, and to discuss their funding experiences. At the end of the event, we will put together a catalogue with guidelines for funding options that reflect the needs of the group.
Funding for translation in theatre – Do we need a change of perspective?
1st November 2021, 20:00
20:00
Funding for translations in theatre – Do we need a change of perspective?
Panel discussion
Guests: Uwe Carstensen (member of the jury for the Deutsche Literaturfonds), Daniel Brunet (producing artistic director of the English Theatre Berlin) – more guests to be added soon
Chaired by: Antje Oegel and Barbora Schnelle


We will provide an overview of different funding models and programmes, discuss how these programmes can be designed with the guests, and analyse how theatre translation can be communicated to and represented in the funding bodies. Can the current funding models meet the actual needs of theatre translators? Are there different approaches in other countries? How can we think about new models? What about cooperative projects? How can requirements be communicated? We want to inspire new ideas and create synergies, and put the main focus on the needs of the theatre translators.
We will examine concrete funding and working conditions compared internationally and seek out new approaches for the funding programmes.
Short biographies of the guests to follow.