Drama Panorama is a forum linking the work of theatre translators and playwrights with theatre practitioners and theatres. It organises workshops, readings and panel discussions on topics related to international theatre exchange.
The aim of the project is to create an open forum for German and international theatre translators, to establish a dialogue with theatres, and to campaign for the recognition of translators in the theatre-making process.
Theatre translation is an interactive process and should be further developed with theatres; our work helps to explore new ways of working together in practice. We hope that in the long-term this will result in a network of translators, playwrights and theatre practitioners (directors, actors, dramaturges). We would also like to give young translators the chance to learn more about their craft, talk to experienced translators and benefit from their knowledge.
We use various different formats to pursue these aims, e.g. readings, panel discussions, guest productions, workshops, etc.
---
Current Events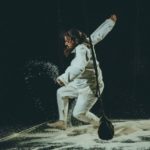 Invaders who will stop at nothing to win. Outgunned defenders. Heroes become losers. Victims mythologised as heroes. Memories of hunger. Documents of the madness of destruction. A belief in superiority that ends in murderous fantasies. And strategies for survival that require absolutely inhumane decisions. Extreme orders that lead to extreme suffering. Heroic figures who become losers, only to win again in the end. Nazis, Soviets, humans. 67/871 is an extreme piece of theatre.
67 Stories from 871 Days of the Blokada
Documentary theatre by Elena Gremina
Directed by: Eberhard Köhler
A co-production by Drama Panorama e. V. (Berlin) and Teatr Pokoleniy (Saint Petersburg)
Theater unterm Dach
Friday 08.09.2017, 8.00 pm
Saturday 09.09.2017, 8.00 pm
Sunday 10.09.2017, 8.00 pm